This page is applicable to NetConnect X 1.5 and above
Overview
Printing via NetConnect is a two-step process and involves presenting the printed content as an in-browser preview from where the user can then select their desired printer to print to.  When Redirected Printing is configured on an specific application, users will be observer their default printer as 'NetConnect (Redirected)' within their session.
Requirements
Redirect Printers flag set to 'On' within RDP connection applications Advanced Properties.
Pop–ups must be allowed from your assigned NetConnect URL within your browser to enable two-click printing (Chrome, FireFox and Safari only).
How to print with NetConnect.
This section assumes the application being used has been configured with Printing Redirection. This setting can be located within the 'Advanced Properties' of the application. Note Redirected Printing is set to On by default.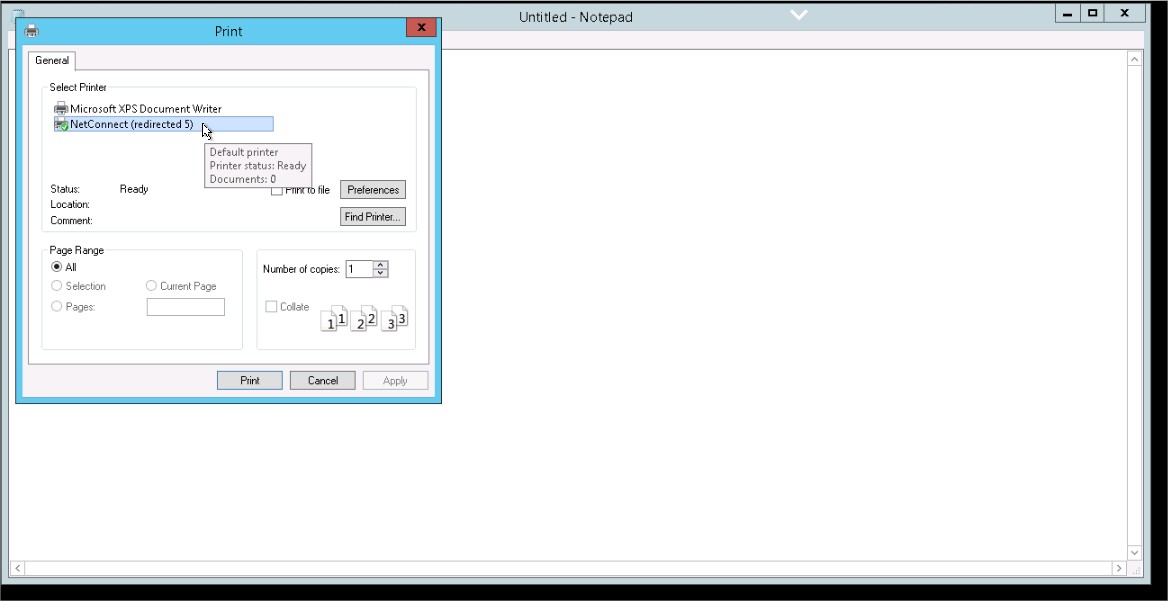 Providing Printing Redirection is configured, the user will be presented with a 'NetConnect (redirected)' as their default printer within their remote session when attempting to print.
Once the user selects print, a separate tab will open and display an in-browser preview (Chrome & Safari only) and the user will be taken directly to the Print Preview page where they can select their desired printer and print. Please note, this stage is not currently supported on any other browsers due to browser imposed limitations.
In addition to the in-browser preview, an option to download a PDF copy of the printed page will also be presented to the user in the lower right hand corner of their session. If the hyperlink is clicked, a .pdf version of the document is opened locally using the local default PDF viewer; users connecting from either Internet Explorer or Microsoft Edge can print from their local PDF application. This message can be dismissed by clicking 'Clear'.
Troubleshooting
I can download a local copy but the print tab does not open?
Chrome / Firefox / Safari
Check whether that pop–ups from your NetConnect URL are blocked. If your browser is blocking pop-ups, you will notice an warning icon to the right-hand side of the address bar after attempting to print to NetConnect (Redirected). Clicking on this icon will present the option to allow pop-ups from your specific URL. Once changed, attempt to print again.
Note, the specific address bar icon and options vary between browser.

Internet Explorer / Microsoft Edge
Please note that the printing feature is not currently supported in Internet Explorer and Microsoft Edge.
Is it possible to set NetConnect Redirected as the default Printer?
It is possible to set NetConnect as the default printer but this must be changed within the Group policy settings on the App Server. The 'allow redirected printers as default' must be selected and enabled.