This page is applicable to all versions of NetConnect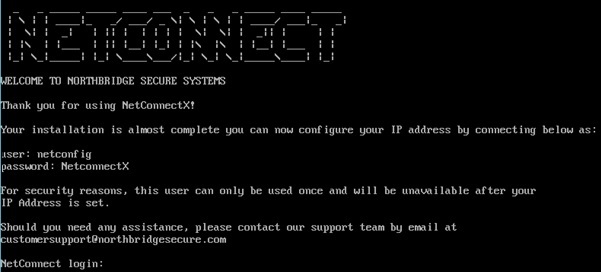 The first time you access your NetConnect instance via the console, you will be guided through the network configuration process. You'll be presented with the console welcome page, which will provide log in credentials.
Enter the credentials as displayed to log in.
Complete the following

Local IP address
Net Mask
Default Gateway
DNS Server 1
DNS Server 2 (optional).

If you do not have a secondary DNS server, we recommend using a public DNS, such as 8.8.8.8.

Review and confirm the details.
After a few moments, your system will reboot. The reboot time can take upto 5 minutes, once complete you will be presented with the welcome screen which has been updated with a link to your new NetConnect instance. Simply copy this into your browser to continue to the first time access page. Be sure to connect using HTTP, not HTTPS.
Next Steps
Your NetConnect instance is now set up with an IP address and available to access via a browser. Proceed to the First Time Access Page to complete the installation process.